Declutter Your Kitchen Before You Move
Posted by Colleen Fischesser on Thursday, January 26, 2023 at 9:49 AM
By Colleen Fischesser / January 26, 2023
Comment
Declutter Your Kitchen Before You Move
Moving is a great way to start fresh and create new opportunities and experiences in your new space.
It's likely you have damaged, unused, or spare items in your home. Decluttering before you move reduces stress, makes moving more efficient, and can help others in need. Ace Relocation recommends these decluttering tips for your kitchen.
EXPIRED SPICES + OILS
It is likely that you will find expired oils, spices and other food in your cabinets and refrigerators that maybe haven't been touched since that recipe you made a year ago. Trash accordingly after looking at their expiration dates.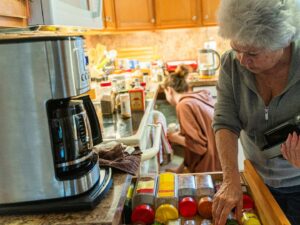 UNOPENED NON-PERISHABLE FOOD
Moving canned goods, boxed pasta, and bagged rice isn't always the best use of resources. Consider donating these items to an organization like
Move For Hunger
. Simply set aside the unopened, non-perishable food items you don't want to take with you and on moving day Ace Relocation will pack up your donations and deliver them to the local food bank or pantry, free of charge.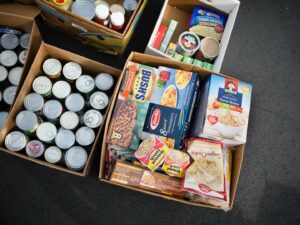 EXTRA COUNTERTOP APPLIANCES
Unplug and pass-on your unused small appliances like blenders and food processers that are taking up valuable cabinet or countertop space. Consider passing these on to college students, recent graduates, and local donation centers.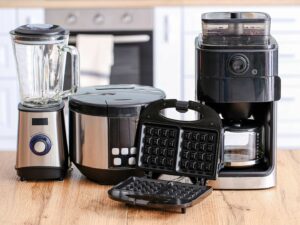 FORGOTTEN COOKWARE
We all have our favorite pots and pans that we use all the time. Then we have the ones that sit in our cabinets and never see the stovetop. Consider starting fresh at your new home with only your favorites and more room for new pieces you'll actually use.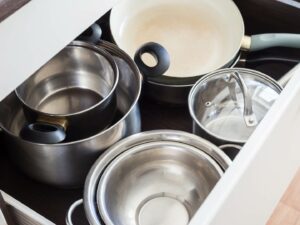 RANDOM CUPS + MUGS
Have you ever opened a cabinet to find it overflowing with random glasses and coffee mugs? These things seem to collect throughout the years. Consider donating your unused or extra drinkware before you move.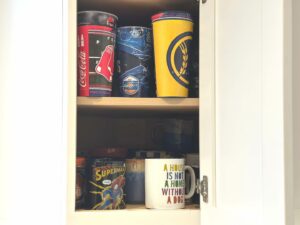 JUNK DRAWER
If you have one of these in your kitchen go through it with a critical eye. Hang on to the items you find important and really need but clear out the junk you'll never use again.